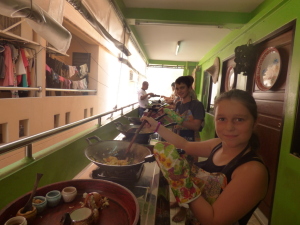 Hi, my name is Brynn Vokes. I'm travelling half way around the world with my family. I'm so excited.
We left on November 1st, 2014. Me and my brother Jack had going away parties and sleepovers with friends. My last day at home was Halloween and I went
trick-or-treating with one of my good friends, Allie Mino. At 3:00 a.m. I flew to Dubai, our first stop. Keep reading to find out all of the things me and my family do – the fun learning experiences, the beauty of different countries, learning about new cultures, trying new foods, meeting new people and more. Here's where it all begins…
So I woke up early in the morning very tired. I was a bit cranky because it's 3:00 in the morning. But we had to catch a plane. My uncles drove us to the airport. There's Uncle Mike and X (Xavier but "X" for short). They drove the four of us to Toronto, so six people in one truck, in the middle of the night, it even started to snow! When we got to the airport I carried in my big, 20 pounder backpack. We said goodbye to my Uncle Mike and X. Once we said good-bye they went to find an exit and we went to find a bathroom. Ten steps later we all saw each other again. Soon after that we put our backpacks into the x-ray machine and showed our passports to the people that work there. Before you know it we were on our way to New York to fly to Dubai, that's called a connecting flight.
On the airplane to Dubai me and my brother thought we were in heaven. We went on a double decker airplane with every TV show and video game you can think of. I watched my favourite show, Austin and Ally. On the plane I sat beside my Dad and Jack sat beside my Mom. Sitting by me and my Dad was the illustrator of one of my chapter books, Ivy and Bean (which I recommend for the interested). Neat huh?! I watched her draw a picture of Ivy and Bean and then she wrote a kind, little message just for me. She told me she was going to a school in Dubai for 10 days. I'm glad we sat beside her.
The flight was 12 hours long. I watched movies and TV shows. When we got to Dubai there was a 9 hour stop over so we took a 5 hour tour of the city. We stopped in a mall to see the indoor ski hill. There is never any snow in Dubai because it is very, very hot there! The people who live there don't seem to care though. They are used to it. We even tried camel milk chocolate. It wasn't too bad. There were also a lot of different smells. Some I liked and some I didn't. After 5 hours we spent the rest of the time at the airport. There was a delay. Then we flew to Nepal. On the plane my family didn't have any seats together. We switched spots with some of the people. The flight attendant sorted it all out. I tried to fall asleep for four hours on the way to Nepal but I couldn't so me and my Dad played crossword puzzles. In 200,000 blinks of an eye we were landing in Nepal.
When we got to Nepal there was a nice, kind man named Ram who was holding a sign that said our names on it. He greeted us with marigold necklaces. It was so different in Nepal. It's so, so busy. The driver sits on the right hand side of the car and there is a lot of horn beeping when people drive! After the driver took us to our hotel I remember walking through a tiny metal door. The hotel was called Gaju Suites. We crouched down into the tiny little door that led us into our hotel and followed Ram to our room. The rooms weren't bad. Me and my Mom shared a room and Jack and my Dad shared another. We always had to get two rooms in Nepal because there were never enough beds for a family of four. Also, the showers are different. There's just a hole in the corner of the room where the water flows to. I remember waking up in the morning with my Mom looking out the window seeing all the wires on the poles and a woman washing dishes outside, and even the kids walking to school. Even though the country is so poor everyone is so kind. That day we went on a tour in Kathmandu and saw a whole bunch of stuff. For instance, there's a girl named Kamari and her family has chosen her to be the living goddess. She prays for people and stops being the living goddess when she is around 12 years old. We got to see her. Some of the other things we did in Nepal include seeing statues of Buddha, going to temples, being in the jungle and riding elephants, taking a plane ride around Mount Everest and I can't forget trekking in the mountains. We really wanted to see Mount Everest so we got into a tiny airplane and looked out the window. It was so cool! We also saw Fishtail and Husband and Wife Mountains (these mountains are side-by-side). You're not allowed to climb these mountains because they are too dangerous. I liked the mountains. A couple of days later we went trekking in the Annapurna circuit. We went with a guide and two porters. Porters carry your bags. We trekked for 2 full days. Me and my brother had hiking sticks and my Mom and my Dad had bamboo hiking sticks. Once we were done trekking we said goodbye to our guide Ganga and to our two porters Raju and Prakash. Later on we rode elephants and saw monkeys, deer and rabbits in Chitwan National Park. It was bitter sweet to leave Nepal. I was sad to leave Nepal but excited to fly to a new country and a new adventure in Thailand.
We flew into Bangkok. Bangkok is the biggest city in Thailand and is the capital. When we were there we tried lots of fruit like mango, papaya, snake fruit, star fruit and dragon fruit. We also had some great Thai food like rice and chicken in a pineapple, chicken coconut curry and fruit shakes. I had a banana shake in a pineapple. For a beach and ocean adventure we decide to go to Phuket for a week. We visited little islands around Thailand too. We went to Phi-Phi Island, Maya Bay, Mosquito Island (which is named for its shape) and Monkey Island (named for all the monkeys). We went caving and kayaking too. We stayed in an awesome hotel with waterslides and slushies. We met some kids from Australia who we played with a lot. They were so much fun and I hope we get to visit them when we go to Sydney. We also went to to Chaing Mai, it's in northern Thailand. We got to feed and bath an elephant. His name is Mr. Boonrut and he is a seven year old elephant. After that we went river rafting on a bamboo raft. For two days me, Jack and my Mom went and volunteered at an orphanage. The kids were so happy to see us. They ran up to us and everyone wanted to hold our hands. We had fun playing with them. The night markets are fun to shop at in Chaing Mai and our hotel was right beside the market. On one of the last nights there we went to see a Thai kick boxing match. We said good-bye to Thailand and flew to Laos.
We have been in Laos for three days. Laos is like Thailand because some of the words are almost the same, like thank-you and hello. We went to a waterfall close to Luang Prabang. It was cold but awesome! In town we crossed a bridge made out of bamboo and went for supper across the river and after I made bracelets. There are a lot of monks in Luang Prabang and we are going to get up early one morning (5:30!) to see the monks get their alms. This is something they do everyday. Me and Jack like to swim in the pool at the hotel and even watch TV in a different language. Soon we will be off to India. I hope you liked reading about my adventures so far.