The Vokes family, Rob, Brooke, Jack and Brynn of Jarvis recently returned from a five month journey that included eleven countries and 23 flights. Their adventure took them from one exotic country to another crammed into buses, taxis, ferries, tuk tuks and cycle rickshaws with backpacks in tow.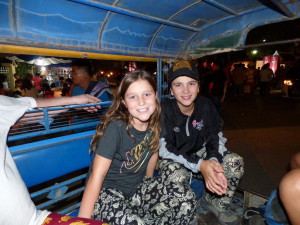 "Happily I took the chance to travel just after teachers college years ago and it has long been my dream to share the excitement of discovering new places and cultures with my family. As a result of our trip my children, Jack, who is 12 years old and Brynn who is 10, learned about various cultures, religions, histories, geographies and did so while immersing themselves in culinary delights, music, dance and local activities," explained Brooke.
They started their travels in sweltering Dubai where they toured the world famous Gold Souk and the Spice Souk where Jack and Brynn tried camel milk chocolate. Next stop took them over the Himalayan mountains and to a cooler Nepal. They started on a trek in the Annapurna region in the wake of a freak and tragic weather system that brought heavy snows and avalanches. Their trek was safe and provided them with amazing views of the snow capped Himalayas while they hiked through rural mountain villages. Their guide, Ganga and porters Razu and Perkash became good friends along the way and opened a window to their Nepalese lives and culture. From their base in Kathmandu, a city that intrigues but also overloads the senses, the family experienced an awe inspiring flight up close and personal of Mount Everest. Later, they travelled to Chitwan National Park for a few nights and enjoyed an elephant safari.
Next they landed in Bangkok, also known as the City Of Angels. In this city of more than 10 million people the family wandered by ferry on the Chao Phraya River to ancient palaces and Buddhist temples. They took a Thai cooking course and made Jack happy with some geocaching. They volunteered at a local orphanage.
"We couldn't speak Thai and they couldn't speak English but that did not matter because they just wanted us to play with them," Brynn commented.
They also spent time on the legendary white sand beaches of Phuket and then travelled north to Chiang Mai where they visited hill tribe villages and journeyed by bamboo raft down a river to bathe an elephant. Jack and Brynn participated in "Monk Chat" where they helped the Buddhist monks with their English through questions and conversation.
In Luang Prabang, Laos the family volunteered in a program called Big Brother Mouse where they assisted young people with their English language skills. They swam at the majestic Kuang Si Falls, visited with tribal village people, sped along the narrow, dusty streets in tuk tuks and watched the sun set on the Mekong River while floating in traditional canoes.
Siem Reap, Cambodia was next where Jack and Brynn came face to face with the victims of war. Here they visited the Cambodian Landmine Museum and School where they heard the stories of how landmines were used as weapons with an ongoing disposal program to rid the local land of mines.
"When talking to our taxi driver I was surprised to learn that during the rainy season when he was a boy he and his friends swam in a bomb crater left over from the war," said Jack.
The family also explored many temples in Siem Reap including the ancient, historical ruins of Angkor Wat, the largest religious monument in the world.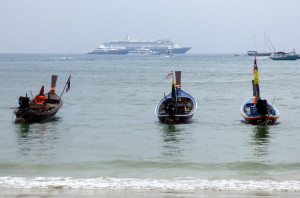 For Christmas they boarded the Volendam of the Holland America Line in Singapore en route to ports in Malaysia, Thailand and Myanmar (Burma). Jack and Brynn made friends on board with other children from Australia, Hong Kong, Singapore, the United Kingdom and the United States. It was an education to travel the ancient shipping routes of Asia and a chance to relax. Everyone was amazed at the ultra modern city state of Singapore which was clean, very expensive and governed by many rules. Jack was shocked to find out that the cost of a car and permit was easily worth more than a hundred thousand dollars.
The family enjoyed their Malaysian stops in Kuala Lumpur, Langkawi and Penang. They enjoyed learning more about the Muslim religion while touring the country.
In Myanmar (Burma) they visited the capital Yangon with its bustling markets and here they experienced their first sighting of female Buddhist monks. Only recently open to the rest of the world, Myanmar is striving to become a tourism destination and the local people were very interested in the visiting Canadian's way of life and culture. The family visited a local Thanlyin village where they toured markets and visited monks at the Bon Pyan Monastery. In a fabric shop they met a political cartoonist who had angered the government with his views and now has to be careful with his artistic expression.
India was next on the horizon where the Vokes clan arrived in Delhi, a city of more than 25 million people. The family found that they had to rely on all of their combined resources and travel wits to deal with India on a daily basis. They found that although people struggled for opportunity and were for the most part impoverished they were also very kind and helpful. The Taj Mahal in Agra was a diamond in the rough and Jack and Brynn were mesmerized by the snake charmers on the streets of Delhi. Travel south to the beaches of Cochin brought warm weather and a trip to the backwater of Kerala on an overnight rice boat. In Cochin Brynn was decorated by a local 16 year old artist in the Henna style in her family home. By the time the artwork had dried the local family and the Vokes clan shared tea, enjoyed traditional Hindi and Bollywood songs performed by the younger Indian girls of the family who also were treated to Brynn's singing.
"I have this fantastic memory of saying goodbye to all the women dressed in colourful saris at their front door as they waved to us. I now know that you can always find kind people in every part of the world," commented Brynn.
After a long flight they landed in OZ……Australia that is. In Sydney, Brooke connected with Tracy, a roommate from university. She and her husband Mick welcomed the Vokes family into their home and friendships were formed quickly with their children Bella, Nate and Chloe.
The Vokes family took in all of the city sites including the Sydney Opera House, the Harbour Bridge and spent time at Bondi and Manly Beaches. The family drove up the coast and Jack and Brynn took surfing lessons, Rob golfed surrounded by Kangaroos and everyone enjoyed exploring the Great Barrier Reef on Lady Elliot Island. Swimming with sea turtles was a highlight of the road trip.
"It was summer in Australia, the weather was beautiful and the beaches were amazing. We did some awesome snorkeling and enjoyed playing as a family in the monster size waves along the coast. We also took a ferry over to Fraser Island, the largest sand island in the world and swam in Lake Mackenzie, one of the cleanest freshwater lakes on earth," Rob said.
The North Island of New Zealand became a stopover before heading back to Canada. The family decided to head north to the Bay of Islands to relax and enjoy the warm weather before the return trip to the freezing temperatures in back home. New Zealand was an adrenalin rush for everyone where the family adventures included luging, zorbing and sky diving. They were thrilled to experience a Maori culture presentation in Rotorua which included the Haka traditional dance followed by a Maori Hangi feast. They also visited the capital Auckland and Waiheke Island.
On their return to Canada they landed in Vancouver to explore the west coast. Jack and Brynn enjoyed biking along the sea wall in Stanley Park. They also were thrilled with their walk on the Capilano Suspension Bridge. In Banff the family walked the streets and trails of this popular Mountain town. On to Fernie, B.C. Brooke was reunited with Nicole, who had travelled with her years before through Asia, Australia and New Zealand. Nicole, her husband Dennis and their three girls Ruby, Charlie and Lucy shared their home and introduced the Vokes family to their mountain town. The children formed strong bonds and enjoyed some trekking and the adaption to cold weather. After five months and countless adventures the family arrived back in Jarvis.
Brooke explained, "This trip was not just a vacation but rather an adventure. Every day was an open book with endless possibilities and we are so grateful for such a rich experience and all of the wonderful support and encouragement we received from our family and friends.