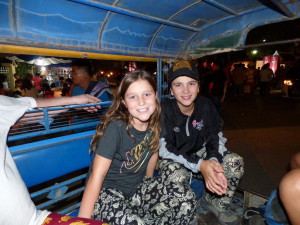 After we left Chaing Mai, Thailand we flew to a little town called Luang Prabang in the country Laos. Did you know that the French ruled Laos at one time? They added the "s" to Laos, but it's silent so the right way to say it is "Lao". Luang Prabang is quiet compared to the places we went to in Thailand. There is a main road where everyone shops and eats and on each side of it are two rivers, the Mekong River and the Khan River. We went on a banana boat ride down the Mekong River and we saw people fishing and watched the sunset. Another day we went to a nice waterfall in a tuktuk. The water was freezing and we were the only ones swimming. You could tell we were from Canada! Later we volunteered at a place called Big Brother Mouse with people that want to learn English. The guy I worked with was 19 and his English was pretty good. He wanted me to help him read a book. It was about Sydney, Australia.
Another thing I want to tell you about Laos is that it was one of the heaviest bombed countries during the Vietnam War, even though they weren't at war. Laos is beside Vietnam and during the war the country was used to send soldiers and supplies into southern Vietnam from northern Vietnam.
I learned about land mines in Cambodia. We went to a land mine museum and the guide told us that there are still many active land mines in Cambodia from the Vietnam War and the Khmer Rouge. We saw a lot of people who were missing arms or legs and some of them were kids who were just playing in a field or picked up something that they thought looked like a toy. People are working to find land mines and blow them up safely so no one gets hurt.
In Cambodia we stayed in a city called Siem Reap. It was busy and had a street called "Pub Street" with a lot of restuarants and crazy tuktuk drivers who liked to joke around. The biggest religious monument in the world is in Cambodia. It's called Angkor Wat and it's one of the wonders of the world. It was huge and neat to see all the designs carved in the stone. We went to another wat called Ta Prohm. I liked it even better than Angkor Wat because everywhere you turned roots were taking over the temple. It was really cool and Tomb Raider was filmed there.
After Cambodia we flew to Singapore. It's one of the richest cities in the world. To own a car in Singapore you have to pay $80, 000 to get a permit for 10 years. Then you have to buy the car! Singapore is clean and there is no garbage. There are lots of rules and if you don't follow them you can get caned. We went to Garden by the Bay and saw man made trees called Super Trees. They even have an island that's man made and a tonne of shopping malls. It's really hot in Singapore because it's close to the equator. Good thing we had a pool. In Singapore we got on a cruise ship.
The ship was called the Volendam and we were on it for 14 days over Christmas and New Years. We sailed to Malaysia, Thailand and Myanmar (once called Burma). On Christmas day we were in Phuket, that's one of my favourite places. The people in Myanmar wanted to touch my skin and they were wondering about us. We went to the Shwedagon Pagoda in Yangon, Myanmar and saw a monk that we met in Chaing Mai, Thailand. I recognized him and he was happy to see us. It's a small world. We also went to a monastery to see how monks live and after that went for a ride on a trishaw through a Thanlyin Village. Another thing that happened in Myanmar is we got stuck in a full elevator for 10 minutes with no air conditioning. But we survived it.
Now we are in India. The McDonald's just serves chicken and fish, no beef because cows are sacred in India. In Delhi we saw a snake charmer. He opened up a basket and a snake popped right out. He started playing an instrument that looked like a flute and the snake started dancing. It's really busy with cars, tuktuks, motorcycles, and buses. Everyone is honking their horn. People are on the streets, especially men. Cows, water buffalo, dogs, goats and monkeys are on the street too. There is a lot of garbage and it is winter in Delhi so a lot of people are trying to get warm by standing near fires. Even though some people are really poor they are still friendly. I liked going to the Taj Mahal. Now we are in southern India and it's hot. We stayed overnight on a house boat and went through the backwaters of India. Soon we will be in Australia and I will have more stories to tell you.